Platinum Sponsor

Schüco – System solutions for windows, doors and façades
Based in Bielefeld, Schüco International KG develops and sells system solutions for windows, doors and façades, sliding systems, security technology and sun shading. In addition to these innovative products for residential and commercial buildings, the building envelope specialist offers consultation and digital solutions for all phases of a building project — from the initial idea through to design, fabrication and installation. Machinery for fabrication and a 360° cycle of sustainability complement the range of products and services.

With more than 4900 employees worldwide, Schüco strives to be the industry leader in terms of technology and service today and in the future. In addition to environmentally friendly products for residential and commercial buildings, the building envelope specialist offers consultation and digital solutions for all phases of a building project – from the initial idea through to design, fabrication and installation. 12,000 fabricators, developers, architects and investors around the world work together with Schüco. The company is active in more than 80 countries and achieved a turnover of 1.575 billion euros in 2017.
CORPORATE VALUES
Innovation, partnership, excellence and responsibility define the success of Schüco. As one of the technological leader for the entire building envelope, Schüco stands for continuous innovation. At the same time, the company is a competent partner for investors, architects and fabricators worldwide. Schüco achieves excellence under the umbrella of a strong brand through certified quality and award-winning design. Schüco conserves resources and takes responsibility for people and the environment with sustainable products.
| | |
| --- | --- |
| | |
| Innovation means for us always improving on what already exists and creating something new. | Partnership means for us: tailoring all products and services to the requirements of our customers. |
| | |
| Excellence: At Schüco, we achieve outstanding results in everything we do. | Responsibility: At Schüco we use state-of-the-art technology, with a focus on people and nature. |
Schüco: State-of-the-Art Façade Technology
Profile system
The mullion and transom profiles are available in incremental basic depths from 50 mm to 250 mm. Special e-mullions and e-transoms are also available for concealed cabling in the façade. A new cable guide system made of aluminium which can also be subsequently installed to be almost invisible on the back of the profile provides the option of laying future electrical cables safely and flexibly.

Integration of functions
The façade from Schüco is not only a building envelope; it is also the platform for mechatronic systems. Reliable and efficient installation of cables in the façade is possible using the new cable guidance system. This facilitates the integration of automatically opening windows with Schüco TipTronic fittings, Schüco building- integrated photovoltaics (BIPV) and the accentuation of the façade using LED lighting with Schüco LightSkin or traditional external advertising.

Thermal insulation system
A high level of energy efficiency is achieved through the SI (Super Insulation) system certified by the Passive House Institute in Darmstadt. The new generation of SI isolators has an impressive lambda value and excellent fabrication qualities. The HI (High Insulation) version offers thermal insulation to passive house level thanks to the optimised use of materials. A system with standard thermal insulation completes the range, thus offering a suitable solution for all climate regions.

Gasket system
Reliability as early as the planning stage. The new continuous system for attaching the façade systems to the building structure based on Schüco Simpy Smart ensures fast, simple planning and fabrication. Minimising inter-faces between the adjoining disciplines increases the level of safety for implementation. Façades with low projections in the base point are also possible with this system and support the safe ventilation of the system.

High-tech products: windows, doors and façades
Window automation with Schüco TipTronic

People in industrialised nations spend the majority of their lives in buildings, which makes it all the more important that building technologies are well designed, convenient and secure.

Energy-efficient, automated building envelopes meet these requirements. Windows, doors and façades from Schüco are high-tech products which are used in every climate zone and all building types. If required, they can provide burglar and fire resistance and offer sound reduction, as well as withstand heavy gunfire. The technology behind them cannot be seen, but is very effective and durable.

The automatically-controlled building envelope is a topic with a great future. Numerous functions such as ventilation, regulating room climate, shading, security and generating energy must be combined to optimise energy consumption. This is achieved with automatic opening and closing systems for windows that control natural ventilation cycles, as well as daylight and sunlight-dependent shading systems, which ideally are coupled with internal lighting, heating and climate control. Centrally controlled windows and doors can be used, on the one hand, to generate energy and, on the other hand, to ventilate the building at night via controlled opening of windows.

It is a stated aim of Schüco that all active elements in a building envelope be networked electronically and controlled automatically. This allows for the full energy efficiency potential of the building envelope to be exploited. The radio-controlled Schüco Wireless Control System (WCS) allows for automation without the need for cabling, making it suitable for building modernisation. Using communication modules such as iPad, iPhone, Android etc., as a means of control opens up new possibilities for operation, setting and use of opening units such as solar shading, anti-glare protection, light control and climate regulation.

Committing to sustainability requires a commitment to research and development
Schüco develops products in its own accredited Technology Center. With an area of 7,800 m2 and the largest indoor façade test rig in Europe, it is one of the leading test centres for windows, doors and façades. Right from the start of product development, this allows Schüco to fabricate, test, continually improve and validate new systems, individual components or special solutions. At the same time, the Technology Center is the ideal platform for training specialists and engineers.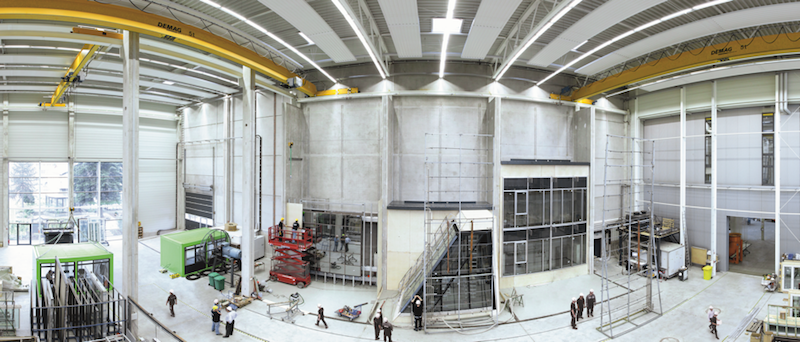 Technology Center, Bielefeld, Germany
Schüco – The first green-certified windows and façades in Southeast Asia
As an industry-led scheme widely recognised by the building and construction sector, the SGBP takes a holistic and comprehensive approach towards sustainability, with criteria drafted by professionals and experts. This grounded methodology enables building products to be impartially evaluated for their relevant, noteworthy qualities, benchmarked against similar products in its category. As a direct result of this emphasis on industrial applicability, the SGBP is recognised under the Building and Construction Authority's (BCA) Green Mark Scheme, allowing certified products to accrue additional points that count towards a project's eventual rating.

Having cleared the stringent assessment routine of the SGBP certification process, Schüco's products have received the two-tick (very good) rating. As an affirmation of Schüco's emphasis on sustainability, this certification serves as a stepping stone to a greater pool of certified products and solutions, eventually being able to offer systems across each of the certification tiers.

This will allow Schüco to provide sustainable solutions to the green building market for every requirement and budget, and position the company to be in a vital role to provide maximum value for architects and property developers to help them meet their sustainability targets.

For more information, visit www.schueco.com.
For enquiries, please write to sea@schueco.com.
CONTACT US to find out how you can partner with FuturArc, the Voice of Green Architecture, in its leading Green design competition that has created thought leaders in Green building ideas in Asia-Pacific for the past 12 years.